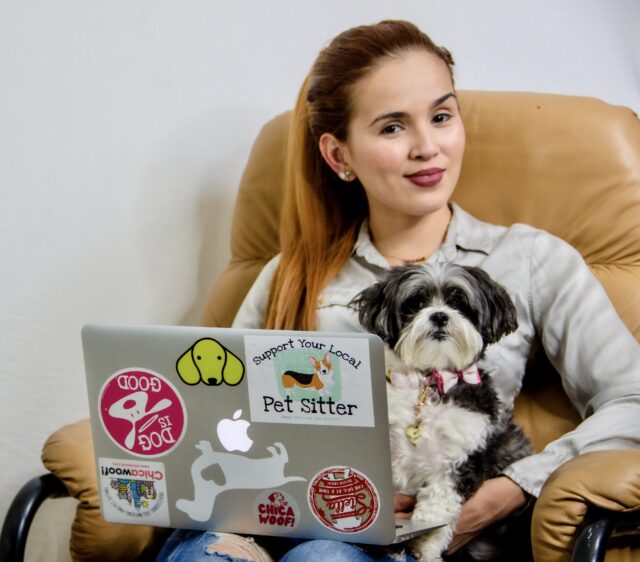 Chicawoof is deeply committed to providing pets with personalized care and quality time. We serve as reliable source pet owners can count on to fulfill pet-care needs and spoil their fur babies. If you are looking for the best pet care option in Chicago but are not sure what service would be the right for your pets, this guide will walk you through the services we offer and hopefully will help you make a decision.
1.Dog Walking
During our dog walking services, one of our caregivers will visit your home on the date and time agreed to walk your dog, play in the yard, or give them some well-deserved love and attention. It's your choice! We can also refill water/ food bowls, and administer medication at no extra cost.
We offer 30 minutes and 60 minutes walks. More than one dog? No problem, pay only $5 for the extra dog. Take advantage of our 60 min. walk deal, 60 minutes of exercise, fun, and safe socialization for only $30. Click here to become a client and take advantage of this deal. If you want to read more about daily dog walking benefits click here.
2.Cat Sitting
All these years in business have taught me that cats need to be treated like royalty, and that's not a problem for us! I guarantee you that our cat sitting service is unique in Chicago, if you see something like this out there, they probably copied us.
Our cat sitting visits are not only feeding and scooping litter boxes, we provide your kitty with quality time and enrichment, so no cat under our care ever gets bored. We have a bunch of interactive/puzzle toys for your cat's fun and mental stimulation, remember that mental exercise is as important as physical exercise when it comes to pets. We offer 30 and 60 minutes cat sitting visits with all included, click here to book the best pet care experience for your cat.
3. Overnights
I am happy and proud to tell you that we have the best overnight pet care deal in The Windy City, all included, no tricks, no hidden fees. For a flat fee have one of our sitters spend the night at your place to give your pets and your home the added security, and your pets can stay in their environment stress-free; not even the big doggy hotels can beat this deal, much less our personalized service or high-quality standards. We offer you 2 kinds of overnight services, our "Overnight 12 hours" which happens from 8:00 pm to 8:00 am, and our most popular choice: "Overnight 12 hours+Midday Visit" which happens from 8:00 am to 8:00 pm and the sitter comes back during midday for a 30 minutes walk/visit, my favorite part? they can be combined! Not sure yet? Click here to read our Pet Sitting vs. Boarding. Which is better for my pet?" article.  Ready to book? Click here! 
4.Drop-in visits
This service is perfect for clients who own small-caged pets: rabbits, hamsters, guinea pigs, fishes, etc. As you probably know, these pets need to be in their own environment, it is not recommended to transport these pets, taking them with you on trips, nor taking them to a boarding facility, so this service is what you need. All included, from feeding and water to cage cleaning! 30 and 60 minutes visits available, click here to book.
 We also offer a complimentary meet and greet to make sure everybody is comfortable before moving forward. Our services are GPS tracked and the client receives a report card with pictures and details about their pet performance through our software: Precise Pet Care. Our software also allows the client to book and make payments online.
If you still have questions you can contact us within business hours:
Phone: 773-234-8279
Email: chicawoofdogwalking@gmail.com
Instagram: @chicawoofdogwalking