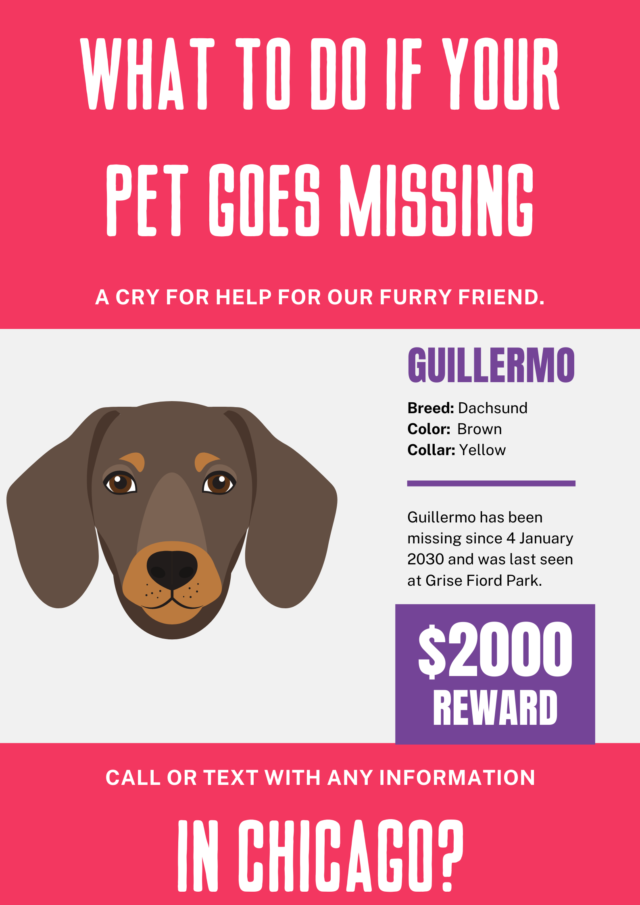 Another week touching a kind of difficult topic, first dog poisoning and now missing pets. These are situations we don't even want to think about, but we have to, otherwise, how do you know what to do? Some pet owners may think "that's never going to happen, I take care of my pet" Yes! I am not saying you are not a great pet owner, but accidents happen, especially when dealing with animals. Of course, the idea is always to prevent, but if for some crazy reason you find yourself facing this kind of emergency, you have to be ready.
1.DO NOT blame yourself
I am not saying this to make you feel better, I say it because in this kind of situation time is gold! We CAN'T waste time blaming ourselves! There are so many dangers for a lost dog in Chicago, so the fastest you act the more chances of finding your pet safe.
2.Post on your community pages/platforms
So we are going to need some help here, get one person to post on every single platform, Facebook group, Instagram page. Almost every neighborhood has an Instagram page or at least a Nextdoor community where you can post, the idea here is to spread the word ASAP and get to as many local people as possible. This is a template you can use:
Hello, neighbors! Today I am looking for this community's help. My dog X got lost (write day) around (write time) X was last seen at (address/place/park/location where the dog was last seen) wearing a (collar/harness color)collar/harness. I appreciate any information! You can contact me: xxx-xxx-xxx  (your phone number)
We are offering a cash reward, and absolutely no questions asked, we just want our dog back.
*Attach photo of your dog*
3.Search your surroundings
While one person takes care of spreading the word on social media, you can walk or drive around the neighborhood, there are a lot of alleys in Chicago so walk/drive really slowly through the allies calling the pet's name. Ask the neighbors and people walking on the street.
4.Contact local rescues and animal shelters
Call every rescue/shelter and file a lost pet report, if you can stop by and drop off a recent picture of your dog, that's even better. I would also call Animal Control. If you suspect that your pet has been stolen, do not hesitate to call the police. Here is a list of some animal rescues/shelters in Chicago:
-The Anti-Cruelty society  (312) 644-8338
-Paws Chicago (773) 935-7297
-Harmony House for Cats (773) 293-6103
-One Tail at a Time (866) 515-6828
-Cicero Waggin' Tails (708) 652-0825
-TreeHouse Humane Society (773) 262-4000
-Chicago Animal Care and Control (312) 747-1406
5. Additional websites
Don't underestimate the power of the internet. Try the following websites:
If your pet is microchipped you probably are going to get news soon, I guess this is a great moment to remind you how important microchips are.
Bonus
If your pet is microchipped most animal hospitals are able to "scan it" and see your information so it wouldn't hurt to contact animal hospitals and emergency vets in your area. If God forbid, your pet is severely injured, their priority is going to be to save the animal's life, so they probably won't contact you right away because they are going to be busy providing your pet with medical assistance, but if you call and give them a description of your pet they will be able to give you information faster.